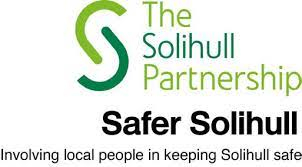 Membership of the Safer Solihull Partnership includes a range of organisations which operate in the borough of Solihull.
The Crime and Disorder Act 1998 and the Police Reform Act 2002 gave local authorities, police authorities and fire services "Responsible Authority Status" to work together and promote community safety in their everyday work. Care Trusts received this status from April 2004 and this later changed in 2013 to include Clinical Commissioning Groups.
The Safer Solihull Partnership consists of representatives from the following organisations:
Solihull Council is the local authority serving the Solihull area 
Solihull Clinical Commissioning Group is the organisation responsible for making sure that healthcare services are available for the people of Solihull.
Website: http://solihullccg.nhs.uk/
West Midlands Police are responsible for crime prevention and crime detection in the Metropolitan Borough of Solihull. The force is divided into 8 autonomous units known as Neighbourhood Policing Units (NPUS), each controlled by a Chief Superintendent answerable to the Chief Constable.
Website: http://www.west-midlands.police.uk/your-local-police/solihull/
National Probation Service works with people who have committed different types of offences such as burglary, violence or car crime. The service provides probation supervision, offender behaviour programmes and specialist support services which can stop people committing further offences.
Website: https://www.gov.uk/government/organisations/national-probation-service
In addition to these organisations there are a number of others that support the work of the Safer Solihull Partnership and help make Solihull a safe place to live, work and visit.
All organisations have a key interest in the reduction of crime and disorder and how drugs, alcohol and anti-social behaviour issues are addressed.