It is still a legal requirement to self-isolate if you test positive or are informed by NHS Track & Trace that you are a close contact of a positive case.
From Monday 16 August:
Positive cases and unvaccinated adults that are close contacts will still be required to self-isolate.
However close contacts that are under the age of 18 and those who are double vaccinated will not be required to self-isolate if identified as a close contact, instead they will be contacted by NHS Track & Trace & advised to take a PCR test and provided with basic health advice. 
If the PCR test comes back positive that individual would need to self-isolate.
To be clear:
The following groups will be required to self-isolate, should they be identified as a close contact of a positive COVID-19 PCR test result:
Those who have not received their COVID-19 vaccination
Those who have not received both doses of their COVID-19 vaccination
Those who have received their second dose within the last 14 days
Those who have tested positive following a PCR test
Those who have been fully vaccinated and are displaying COVID-19 symptoms (ahead of getting a PCR test).
You can read the full government guidance here.
To reduce the spread of COVID-19, anyone with COVID-19 symptoms or a positive test result must self-isolate at home, along with the rest of their household. This can save lives.
You must not leave your home if you're self-isolating.
do not go to work, school or public places – work from home if you can

do not go on public transport or use taxis

do not go out to get food and medicine – order it online or by phone, or ask someone to bring it to your home

do not have visitors in your home, including friends and family – except for people providing essential care

do not go out to exercise – exercise at home or in your garden, if you have one
If you have symptoms or have tested positive for coronavirus, you'll usually need to self-isolate for at least 10 days.
You'll usually need to isolate for 10 days if:
Someone you live with has symptoms or tested positive

Someone in your support bubble has symptoms or tested positive

You have been told to self-isolate by NHS Test and Trace
You can return to your normal routine and stop self-isolating after 10 full days if your symptoms have gone, or if the only symptoms you have are a cough or anosmia, which can last for several weeks. If you still have a high temperature after 10 days or are otherwise unwell, stay at home and seek medical advice.
If you are isolating because of a positive test result but did not have any symptoms, and you develop COVID-19 symptoms within your isolation period, start a new 10 day isolation period by counting 10 full days from the day after the onset of your symptoms.
This graphic explains how self-isolation works if someone in a household has Covid-19 symptoms: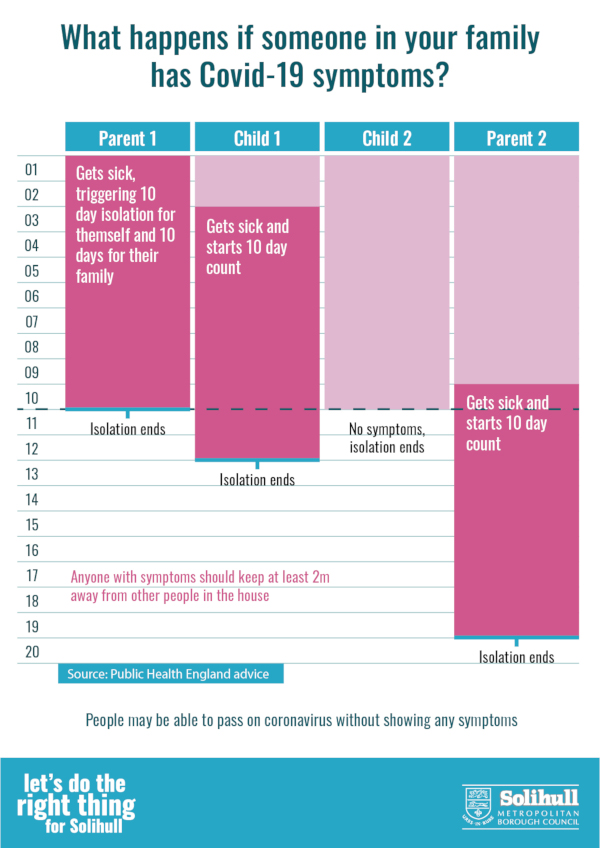 If you are self-isolating because of coronavirus, there are things you can do to reduce the chances of spreading any infection to the people you live with. If you have symptoms, you should stay away from other people you live with as much as possible.
If you can:
stay on your own in one room as much as possible and keep the door closed

avoid using shared spaces (such as the kitchen) at the same time as other people – eat your meals in your room

use a separate bathroom - otherwise, use the bathroom after everyone else and clean it each time you use it, for example, by wiping the surfaces you've touched
DO:
wash your hands with soap and water often, for at least 20 seconds

use hand sanitiser gel if soap and water are not available

cover your mouth and nose with a tissue or your sleeve (not your hands) when you cough or sneeze

put used tissues in the bin immediately and wash your hands afterwards

clean objects and surfaces you touch often (such as door handles, kettles and phones) using your regular cleaning products

consider wearing a face covering when in shared spaces

keep windows open in the room you're staying in and shared spaces as much as possible
DON'T:
share towels, including hand towels and tea towels
The Germ Defence website provides useful information about how to protect yourself and your household.
If you are on a low income and will struggle to meet your financial obligations as a result of self-isolating, you may be entitled to a self-isolation payment - for more information, or to make an application, visit this page and if you need any other practical support or emotional support visit our Here2Help section of the website. 
Or call us on 0121 704 8200 where a Customer Services advisor will assist you with making an application.
For the most up to date and detailed information and advice about self-isolating, please visit the government website.
Or call us on 0121 704 6892.