Each year we fund measures to increase driver awareness and to promote road safety. This can involve anything from putting up temporary posters to installing permanent vehicle activated warning signs.
There are some initiatives which we look to deliver each year, but there are also one-off schemes specific to a particular road or issue.
Campaigns provide us with an opportunity to respond relatively quickly to concerns about inconsiderate speeding and to gather information which may be required for us to take further action.
Solihull Partnership Speed Watch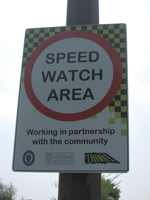 Working in partnership with West Midlands Police, this scheme provides the opportunity to increase driver awareness, monitor speeds and to support the speed enforcement activity carried out by Police.
Solihull Speed Watch sees trained council staff using speed measuring equipment to identify speeding drivers on roads across the borough. Warning letters are sent out to the owners of any vehicles observed speeding and serial offenders will receive a visit from the Police.
If you would like to request Speed Watch activity on your road please call 0121 704 8004 or email Environ2@solihull.gov.uk, telling us what time of day you feel is the biggest problem.
Solihull Community Speed Watch
Community Speed Watch is a speed monitoring and awareness scheme that is coordinated by the Police but run primarily by a group of volunteers from within the local community. The volunteers use speed detection devices to monitor traffic and identify speeding drivers on a specified road or in small area.
We help the Police set up and promote Community Speed Watch groups in Solihull.
Speed Aware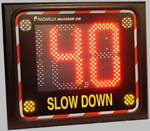 The Speed Aware initiative involves the use of small electronic warning signs, known as 'SpeedVisors', which alert speeding drivers to the speed limit.
We install SpeedVisors in response to requests from residents about inconsiderate speeding.
These signs are temporary and are moved once a month, allowing us to use them at about 60 sites each year.
Additional measures are used at some locations, including 'Kill your Speed' posters and 'Police Speed Check' signs, supported by Police enforcement action in some cases.
To request a SpeedVisor on your road please contact us at Environ2@solihull.gov.uk.
Permanent Flashing Warning Signs (VAS)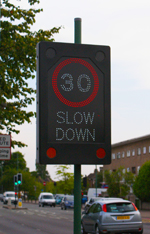 In some locations we offer permanent vehicle activated signs (VAS) to alert drivers to the speed limit or to warn them of a potential hazard.
Permanent VAS are usually installed at locations where high vehicle speeds continue to cause concern and/or where road users are being injured as a result.
These signs can be particularly suitable for use near schools as they can be programmed to display a school warning sign at certain times of the day, or to advise drivers of a part-time speed limit.