The term 'traffic calming' can include any measure or technique used to manage vehicle speeds, improve driver behaviour and to prevent road traffic casualties.
We consult residents and road users prior to the installation of any permanent traffic calming. Information about current highway schemes can be found on our roadworks consultations page.
Physical traffic calming
Physical or engineered traffic calming measures could include: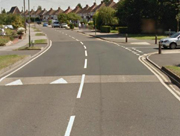 road humps or speed cushions
table-top road humps
road or junction narrowing
traffic splitter islands or roundabouts
chicanes or build-outs; and
prohibited movements
Physical traffic calming should be considered a last resort and it will only be offered if other options have failed to reduce the number of people getting hurt.
Pedestrian Crossings
The need for a new pedestrian crossing can be identified a number of different ways: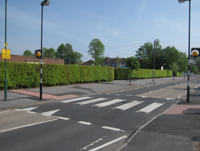 following analysis of road traffic collisions
through our Safer Routes to Schools initiative
as part of another road improvement scheme
through requests from residents, local representative groups and Ward Members
requested or offered as part of a private development project approved through the planning process.
A policy has been developed to ensure a fair and consistent assessment, and to help us treat the highest risk sites first.
At all times we have to consider the implications of a new crossing facility as it can sometimes result in long delays for traffic or increase the risk to pedestrians.
If a new pedestrian crossing is considered appropriate and feasible it will then need to be subjected to the Local Transport Plan prioritisation process which determines which schemes receive funding each year.
Speed limits
As the Local Highway Authority we have a duty to manage the road network for the benefit of all road users, including cyclists and pedestrians. This includes setting speed limits in line with current guidance.
For further information see the 2009 A and B Classified (Strategic Road) Speed Limit Review and 2010 C and Unclassified (Local Road) Speed Limit Review. Recommendations from both reviews have now been advertised and in the most part implemented.
Alongside this, the Council is in the process of trialling 20mph speed limits outside schools and in residential areas. The use of 20mph limits in Solihull will be considered based on the outcome of these pilot schemes and any future proposals will be subject to the availability of funding and relative priority to other schemes.
For more information about our approach to setting speed limits please contact us.