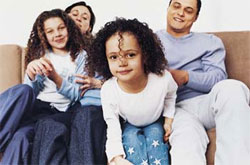 Fostering is a way of providing a family life for children who cannot live with their own parents.
Solihull Council works in a number of ways with families who are experiencing difficulties. Our main aim is to work with families to help them to stay together.
However, sometimes children need to be placed in temporary foster care while parents get help sorting out their problems, take a break, or to help children and young people through a difficult period in their lives.
Children will often return home once the problems that caused them to come into foster care have been resolved and it is clear that their parents can look after them safely. Others however, may stay in long term foster care until they move onto independence or are adopted.
Different types of fostering options
There are many different types of fostering, from short to long term, babies to teenagers. No two children's circumstances are the same, which is why we need a variety of types of foster care.
Short term fostering
When a child is taken into care and decisions are being made for their future, they will be placed with a foster family in a 'short term' placement. This could be for a matter of days, weeks, or even months.
Long term or 'permanent' fostering
Some children cannot return to their birth families, but retain strong links with them. They need foster carers who can offer them a secure placement through to adulthood.
Emergency fostering
Some children need to be looked after with very short notice, at any time of day or night, with very little planning or preparation. Emergency foster carers offer a home for a short period until further plans are made.
Respite foster care
Foster carers sometimes need a break or someone to help with the care of their foster children from time to time. Respite carers offer weekend and/or school holiday support. This can range from an overnight stay up to a fortnight.
Short breaks carers
Short breaks carers offer regular, planned and on-going support to children and young people who have a disability, at weekends or during school holidays.
Parent and child/ren fostering
Parent and child/ren fostering involves looking after a parent and their child/ren – often but not always a young mother. These placements typically last for around 12 weeks, so that the carer can teach essential parenting skills, encourage the parental bond, and ensure that the child/ren are safe and cared for.
Refugee/UASC children
Many of our foster carers provide care to refugee and unaccompanied asylum seeking children (UASC). Foster carers are required for this specialist task.  Many of these children and young people arrive traumatised and disorientated.