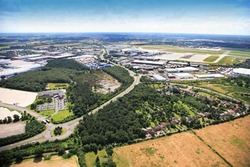 The parish of Bickenhill lies across the A45 Birmingham to Coventry road.
It included the manors of Church Bickenhill, Hill Bickenhill, Middle Bickenhill, Wavers Marston, and Marston Culy (Marston Green).
Bickenhill parish also included Lyndon, which was a detached portion two miles to the west, and which was transferred to the parish of Solihull in 1874. The north part of Lyndon Quarter, above the Coventry Road, was subsequently transferred to Birmingham in 1931 whilst the south part became part of the suburb of Olton. Marston Green became a separate ecclesiastical parish in 1928. In 1932, part of Elmdon was added to Bickenhill.
Bickenhill is of Anglo-saxon foundation. The name, recorded as Bichehelle at the time of the Domesday survey of 1086, means Bica's hill.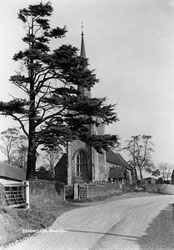 St Peter's church, Bickenhill, dates from the 12th century although little remains from that period. Alterations took place in the 14th century and, in the late 15th century, the north chapel and west tower were added.
There was a major restoration in the first half of the 19th century with the floor being relaid, pews added, repairs made to the churchyard and the south walls of the chancel and nave being demolished and rebuilt. The spire was struck by lightning in 1876 and rebuilt 10 years later.
The church registers date from 1558 and copies are available at Solihull Heritage & Local Studies Service.
In 2001, the population of the civil parish (including Marston Green) was 6,583.
National Exhibition Centre (NEC)
In 1976, the NEC was opened in the parish of Bickenhill. At the time, this was the largest exhibition complex in Europe.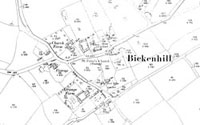 Click on map to view larger version in PDF
Links
Further reading
Discovering Bickenhill, by Victor Skipp, 2nd ed., 1989
Bickenhill parish council minutes 1976 to date.
Check the online catalogue to see if the above books on Bickenhill are available at your local Solihull library.
Ordnance Survey maps 1886 to the present day are available at Solihull Heritage & Local Studies Service.
Let us know your memories of Bickenhill, however recent, by completing a memory sheet attached below.