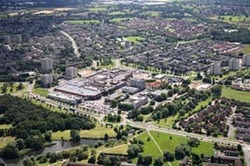 During the Second World War some 12,391 houses in Birmingham were destroyed and no more were built for 6 years.
In order to meet demand, new houses had to be built in large numbers and the slum clearance programme had to be resumed to enable redevelopment of Birmingham city centre. Large new estates were built within the city boundaries e.g. Druids Heath, but by the 1960s there was insufficient land left to accommodate further large-scale developments.
In November 1963, Birmingham City Council took the decision that would lead to the building of the Chelmsley Wood estate. A public enquiry was held in May 1964, with strong objections being raised by Meriden Rural District Council and Bickenhill, Castle Bromwich and Coleshill Parish Councils. Despite this, permission for the development was granted and it was named Chelmsley Wood in February 1965, taking its name from the existing 'bluebell wood' that is fondly remembered by locals.
People would come in droves to picnic at Chelmsley Woods, particularly on Bank Holidays. They would arrive from Birmingham by train at Marston Green station and, as a result, tea rooms in Marston Green would do a roaring trade. Pots of tea were also sold by people at Alcott Hall Farm.
Land was compulsorily purchased and construction of the 15,590 dwellings (including 39 multi-storey blocks of flats) was begun in 1966 and completed in 1970. Although the area became part of Solihull in 1974, Birmingham City Council retained control of their houses until they were officially transferred to Solihull MBC on 29th September 1980.
Original concept and design
The emphasis of the design brief for the town centre was the separation of cars and pedestrians in a 'Radburn layout' that resulted in a back to front layout with housing backing onto streets whilst front doors opened onto semi-private and public spaces.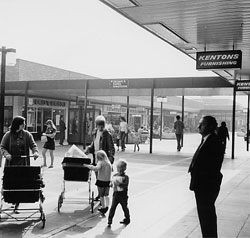 Shopping was to be accessible from one level and undercover so that shoppers were protected from the elements. There were 70 shop units and 6 major stores, as well as a 4-storey office block and 2 pubs. The 221 dwellings in the town centre included 14 maisonettes over shops - the intention was to prevent the area from becoming lifeless when the shopping centre was closed.
Attention was paid to the site of buildings in relation to the prevailing winds to ensure that a tunnelling effect with the wind was not created. However, the descriptions of life in Chelmsley Wood by Lynsey Hanley in her book Estates would indicate that the 'wind tunnel' effect wasn't completely avoided.
Landscaping was to "act as a transition between the roads and buildings, in some cases to relieve the hardness of the buildings, and in others to stimulate interest and add to the visual pleasure of the area".
Buildings were designed to "evoke some sense of unity and harmony by obtaining good proportions and a simple use of materials". High-rise flats were developed with pockets of open space. Housing densities were high but a uniform system of development evolved, lacking in character, identity and diversity.
With the decline in manufacturing industries in the area and difficulties in developing the skills required to access new jobs, unemployment increased. As a result, the area has suffered from physical, social and economic deprivation.
Further reading
Estates: an intimate history by Lynsey Hanley, 2007
Marston Green: a village community by Margaret Francis, 2001
Chelmsley Wood Shopping Centre maps, published by Experian Goad
Brief history of Chelmsley Wood by J G Dutton, 1980
An introduction to the history of Chelmsley Wood by Brian Chase and Noel Hird
Chelmsley Wood development by Birmingham City Council, 1968
Chelmsley Wood town centre by Samuel Properties and Bryant Holdings Ltd, 1967
Check the online catalogue to see if the above books on Chelmsley Wood are available at your local Solihull library.
Ordnance Survey maps 1886 to the present day are available at Solihull Heritage & Local Studies Service.
Let us know your memories of Chelmsley Wood, however recent, by completing a memory sheet attached below.