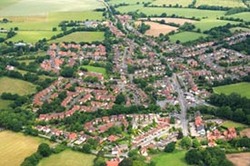 It is thought that the name Hockley is derived from 'Oakley' ('the meadow of the oaks').
The village of Hockley Heath lies astride the A34 Stratford Road, a trunk road connecting Birmingham and Stratford-upon-Avon. This is thought to be an ancient highway that may even have been a track through the Arden forest.
Once supporting a farming community, Hockley Heath owes its development to the two communication routes that run through the village: the A34 trunk road, and the Stratford-on-Avon Canal. The original settlement was at Nuthurst ('nut wood') but migrated to Hockley Heath and grew along the Stratford Road.
The village has an ancient history - its woods were given by King Offa of Mercia to the Bishop of Worcester in the early part of the 8th century. The ecclesiastical parish of Nuthurst cum Hockley Heath was created in 1878 with the building of the church of St Thomas in 1879. Until the formation of the new parish in 1878, Nuthurst had been a chapelry of the parish of Hampton-in-Arden, with parts in the parishes of Salter Street and Tanworth-in-Arden.
In 872 Werfyd, Bishop of Worcester, granted to Eanwulf the King's thane, land at Knuthyrst. After the Norman Conquest the name usually appears as Notehurst. It was Sir William Trussell of Nuthurst who announced to Edward II his deposition from the throne.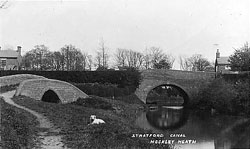 The canal, which runs from Kings Norton, was navigable as far as Hockley Heath by 1798, the remaining link to Stratford being opened by 1816. Hockley Wharf served the surrounding area and non-perishable goods were unloaded there, including timber, lime, coke, coal, cement, bricks and salt. The last commercial load was brought into the wharf on Christmas Eve, 1929.
Further reading
The Hockley Heath story by Charles Lines, Warwickshire County Magazine, January 1991, pp.6-9
Hockley Heath: a village study by Solihull MBC, 1988
Hockley Heath panorama: survey of village by Hockley Heath County Junior and Infant School - Warwickshire Rural Community Council's Children's Village Survey Project, 1968-9
The story of Nuthurst-cum-Hockley Heath by J J Belton, 1948
The story of Tanworth-in-Arden, Warwickshire by J Burman, 1930
Check the online catalogue to see if the above books on Hockley Heath are available at your local Solihull library.
Ordnance Survey maps 1886 to the present day are available at Solihull Heritage & Local Studies Service.
Let us know your memories of Hockley Heath, however recent, by completing a memory sheet attached below.