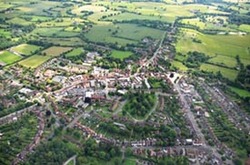 The name Knowle is derived from the Saxon 'Cnolle' which means a small hill. It appears in documents as 'Gnolle' 'Knolle', 'Knole' and 'Knoll' before the present spelling became standard from about the mid-19th century.
At the time of the Domesday Survey in 1086, Knowle was a hamlet within the parish of Hampton-in-Arden and is not separately recorded. It became a separate parish in 1859.
The first record of Knowle is a document from about 1200 in which William de Arden conveys the 'whole town of Gnoll' to his wife Amice de Traci. Knowle became a Royal Manor in 1285 when the de Arden family sold it to King Edward I and Queen Eleanor. After the queen's death in 1290, King Edward gave the Manor of Knoll to the Abbot and Priors of Westminster and instructed that masses be said for the soul of Queen Eleanor.
Villagers from Knowle wishing to attend church had to travel two miles to Hampton-in-Arden, crossing the "daungerowse water" of River Blyth on the way. This river became flooded and impassable in wet weather, sometimes as much as 6 feet deep and a hundred yards across.
In 1396, Walter Cook applied for a faculty to build a church in 'Knoll' and this was granted by Pope Boniface IX on 4th May 1396. Construction was so far advanced by 1399 that services could be held there. The church was built entirely of white Arden sandstone from a quarry in Rowington. On 24th February 1402 the church was consecrated to the glory of God and in honour of St John the Baptist, St Lawrence the Martyr and St Anne.
In 1412, Walter Cook founded, with 6 other men, the Guild of St Anne of Knowle, an early form of friendly society providing aid in sickness, poverty and old age. The church was enlarged so that guild members could comfortably meet there. Most of this work was carried out in red sandstone brought from Kenilworth.
Chester House
Chester House, now Knowle Library, was originally two dwellings built in approximately 1400 and 1500. Now Grade II* listed, it has been suggested that the original buildings may have been used by local craftsmen as combined workshops and homes.
It was in the 17th century that the houses were combined to form one dwelling, possibly a farmhouse or an inn. During the 19th century the building appears to have been divided into three separate dwellings again until the three houses were combined into one building in the 20th century. After being used as an antique shop for many years, the building became the property of Solihull Council in 1972. After a complete restoration, the building opened as Knowle Library in 1975.
Links
Knowle Library - for library resources, information and historic Ordnance Survey maps of Knowle on CD-ROM. Also free, internet-access PCs, where you can make use of the Ancestry website free of charge to research your family history.
Baddesley Clinton - mediaeval, moated manor house, owned by the National Trust.
Knowle Local History Society - established to promote the study of the history of Knowle.
The Knowle Society - who maintain a local history centre on the first floor of Knowle Library in Chester House.
Further reading
Remember Walter Cook: the founder of Knowle church, Warwickshire by Anthony A Upton, 2003
The further price a parish paid: Knowle and Dorridge in the Second World War by Michael Harrison, 2002
The price a parish paid: Knowle and Dorridge in the Great War by Michael Harrison, 1998
Around Knowle and Dorridge by Charles Lines, 1996
The History of Knowle by Eva Wootton, 1972
Knowle by University of Birmingham Extra-mural Department, Solihull class
Excavations at Knowle Hall by Solihull Archaeological Group
Check the online catalogue to see if the above books on Knowle are available at your local Solihull library.
Ordnance Survey maps 1886 to the present day are available at Solihull Heritage & Local Studies Service.
Let us know your memories of Knowle, however recent, by completing a memory sheet.