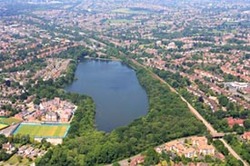 The area was recorded in 1086 as the manor of Ulverlei, meaning 'Wulfhere's clearing'. Held at this time by Cristine, great-granddaughter of Ethelred the Unready, the manor had previously been held by Edwin, Earl of Mercia until his death in 1071.
By the 13th century, Ulverlei was being referred to as 'Oulton' (meaning 'old town') to distinguish it from the 'new town' of Solihull.
Olton remained largely agricultural until opening of the station in1869 and the development of St Bernard's Road. Part of the road that later be came St Bernard's Road appears on the 1839 Tithe map and, in 1869, a new road was constructed to link this road with the Warwick Road. Originally named Windmill Road, it had become St Bernard's Road by 1872, named after the seminary that was being built. The first house to be constructed in the road is thought to be Elmhurst (no. 21), which was used for a gathering of 200 people in 1872.
'Fairview' (no. 25) St Bernard's Road was the home of Frederick William Lanchester from 1893-97, an engineer who designed gliders, a motor boat and a motor car.
Another famous resident of Olton was Edith Holden, whose 'Nature Notes of 1906' were to be published in 1977 as the 'Country diary of an Edwardian Lady'. She lived with her parents and sisters at Gowan Bank (no. 15), Kineton Green Lane from 1905 and taught at a girls' school in Solihull.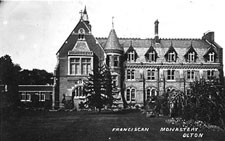 Olton Friary
This was built in 1873 as St Bernard's Catholic Seminary by Bishop William Bernard Ullathorne, the first Catholic bishop of Birmingham. It closed in 1889 when the bishop's successor moved the seminary to Oscott. The building was purchased by the Capuchin Friars and became the Franciscan Monastery of the Immaculate Conception. The friars left on 10th January 1981 and the Sacred Heart Fathers and Brothers of Bétharram took over the running of the parish.
Olton Hall
Previously the home of the Palmer family, Olton Hall was inherited by Henry Greswold Lewis of Malvern Hall. Following his death, it was inherited by the Wigley family and, in 1833, was owned by Caroline Meysey Wigley, later to become Caroline Clive when she married Rev. Archer Clive in 1840.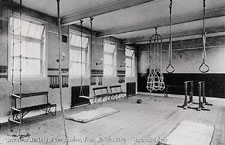 Olton Court Convent
Olton Court, 89 St Bernard's Road was built in 1895 and enlarged four years later. It was purchased by the Sisters of Our Lady of Compassion who arrived at Olton Station from France in 1903. The sisters opened a school "for the daughters of gentlemen". Olton Court still stands but, in 1974, the school was merged with Bishop Glancey High School to form St Peter's Catholic School. In 2006, Olton Court was added to Solihull Council's List of Buildings of Local Architectural or Historic Interest. In February 2007, planning permission was given to convert the building into 12 apartments.
Olton Mere
Olton Mere was created as a reservoir to act as a feeder for the Grand Union Canal, which was opened in 1799. The Mere was formed from marshland fed by Folly Brook (now Hatchford Brook) and was designed to hold 150 locks full of water, but this was not achieved until the Mere was extended in 1834.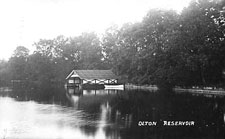 It is the largest of the few areas of open water in Solihull and supports a large number of waterfowl. The woodland surrounding the Mere has remained undisturbed for many years, providing an important habitat for plants and animals.
There is no public access to the Mere but there is a good view of the Mere from the trains travelling between Solihull and Olton. The Olton Mere Sailing Club also has a membership category for those who wish to have walking access to the Mere.
Sailing on the Mere started in 1900 when five residents of St Bernard's Road leased the reservoir from the canal company. A club was formed for sailing, fishing and shooting, although shooting was suspended in 1926 owing to a shortage of wildfowl.
Further reading
Butler of Olton: the birth of a parish by Neil S Dodds, 2005
The centenary of Olton Mere Club: a history 1899-1999 by Ted Kilby, 2000
Olton on old picture postcards by John Marks, 1993
The story of Olton Golf Club, founded 1893 by David Cadney, 1991
Olton and West Warwickshire Cricket Club 1888-1988: commemorating 100 years of cricket at Olton by N C Gross, 1988
Olton heritage by Jean Powrie, Margaret Jordan and Carol Andrews, 1986
Monumental inscriptions of Olton Friary by Birmingham & Midland Society of Genealogy and Heraldry
Parish church of St Margaret's Olton: 1st 100 years by R Kay, 1983
Olton conservation area by Solihull MBC, 1980
Nineteenth century urbanization of Olton by D M Kale, 1974
Check the online catalogue to see if the above books on Olton are available at your local Solihull library.
Ordnance Survey maps 1886 to the present day are available at Solihull Heritage & Local Studies Service.
Let us know your memories of Olton, however recent, by completing a memory sheet attached below.