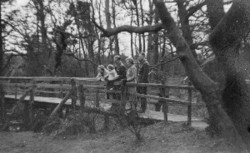 The name Ravenshaw means "the wood of the ravens" and was first recorded in 1591.  It was part of the Manor of Longdon that, together with the Manor of Ulverlei, formed Solihull in the 12th century.
The ford across the River Blythe at Ravenshaw has been a favourite local beauty spot for many years and the rustic pedestrian bridge featured on many local postcards, particularly from the Edwardian era.  Local people have fond memories of the area:
"Long walks around Solihull were popular, especially to Ravenshaw, where picnics could be held, and paddling in the River Blythe and fishing for tiddlers with a net or minnows with a line or for an occasional roach."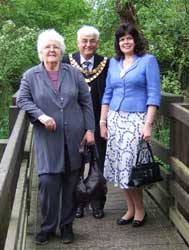 The actress Stephanie Cole was born in Solihull in 1941 and lived here until the age of about three or four.  Photographs, such as the one above, from about 1943 show her at Ravenshaw with her mother, grandmother and other family members and she has vivid memories of the woods and the ford.  During a visit to Solihull in May 2008 to open the newly-refurbished Knowle Library she revisited Ravenshaw with the Mayor and Mayoress of Solihull.
Ravenshaw is still popular with walkers, cyclists and horse riders, and improvement work was carried out in 2007 by Solihull Council and volunteers from the Birmingham and Solihull Midweek Conservation Group.
The earliest photograph of the bridge at Ravenshaw that we have in the collection at Solihull Heritage & Local Studies Service is dated 1891.  This bridge had been replaced by 1905 by a new bridge that, with some repairs, seems to have lasted for at least 60 years. A newspaper article from 1946 states that Birmingham Civic Society had given Solihull Council £50 for the maintenance of the bridge, as they were keen to see it preserved for as long as possible.  There had been rumours (unfounded according to the newspaper) that the bridge was to be replaced.  It looks as if the same bridge (presumably having been repaired over the years) was still there in 1979.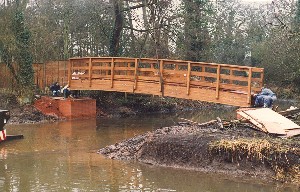 The present bridge was installed in March 1987, at a time when work was carried out landscaping the area. Gates were added, as were parking areas and turning points, and the ford was closed to traffic.