Solihull Council is helping residents to improve the energy efficiency of their homes, reduce carbon dioxide emissions and provide affordable warmth for residents in the borough.
Green Homes Local Authority Delivery Scheme LAD
Eligible households in Solihull can now benefit from a range of energy efficiency measures through the Green Homes Grant Local Authority Delivery Scheme.
The scheme aims to tackle fuel poverty and raise the energy efficiency of low income homes with an E, F or G energy (EPC) rating.
The scheme includes free energy efficiency measures, such as:
External wall insulation
Air source heat pumps (low carbon heating)
Installation of double / triple glazing
Solar panels
Door insulating improvements
Smart heating controls
Cavity insulation
Loft insulation
Find out more information and apply on our Green Homes Grant Local Authority Delivery Scheme page.
Improving the energy efficiency of your home helps reduce damaging carbon emissions and saves you money by cutting your energy bills.
Solihull Energy Switch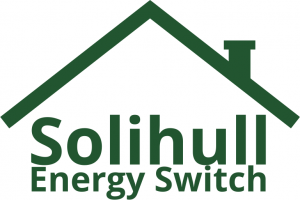 Solihull Energy Switch is a scheme to help residents of Solihull find cheaper gas and electricity.
Since October 2015 we've launched 13 collective switching schemes which have helped over 7,200 households in Solihull switch supplier, saving a total of over £2 million!
To register, all you have to do is have a recent energy bill to hand.
Register with Solihull Energy Switch
Once you have registered you will receive an email or letter detailing your new energy offer and your estimated annual saving.
You can then decide whether to switch. There are no obligations and it's completely free.
Let Solihull Council do the hard work for you, you've got nothing to lose by registering your details and you may end up having some extra cash in your pocket.
Saving energy
There are many simple measures you can take to save energy, such as:
Switching off lights and equipment (not leaving them on standby)
Using energy saving light bulbs
Turning down the heating and wearing extra clothing
Only heating the rooms you use and closing doors between rooms
Other measures are more expensive but can save you money in the long term. They may include:
Installing insulation
Draught proofing
Double glazing
Condensing boilers
Flexible heating controls
Renewable energy technologies like solar PV and hot water systems
For free independent advice about saving energy in the home please contact Act on Energy.
ECO (Help to Heat) and ECO Flex
ECO (Help to Heat) is a government scheme delivered through energy companies to help improve the energy performance of homes occupied by vulnerable, low income households. The scheme is available to homeowners and private tenants who receive benefits.
ECO Flex is an extension of the ECO (Help to Heat) scheme, but more people are eligible for help through additional criteria set by Solihull Council.
You can view our ECO Flex:
Home Energy Conservation Act (HECA) Report
The Secretary of State for Energy and Climate Change requires local authorities in England to provide a report every two years, setting out the energy conservation measures that the authority considers practicable, cost-effective and likely to result in significant improvement in the energy efficiency of residential accommodation in the area.
You can find a 2 page summary of the report for Solihull here.