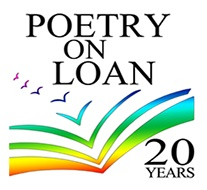 Poetry on Loan promotes contemporary poetry through public libraries in the West Midlands and has commissioned local poets to write new, topical poems perfect for these uncertain times.
To see these poems performed go to the Poetry On Loan website.
New Poetry competition
Poetry on Loan is proud to launch its 2022 Poetry Competition.
You are invited to write a poem of no more than 20 lines on the theme of 'Strangers and Friends' 
Its free to enter for people in the West Midlands.
There are 2 categories, 11-18 year olds and over 18s.
The prizes are to win a paid performance in a West Midlands library (adults) and a book token (for under-19s).
For 2022 there is a new category. If you have never had a poem published - in print or online - and have never won a prize in a poetry competition, then you are eligible for our Fresh Poet prize - a commission in 2023 with a fee of £50.
The closing date is 1st September 2022. 
For full details, terms and conditions and how to enter, go to Poetry on Loan.