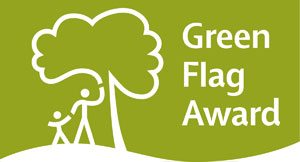 Two parks in one, Malvern and Brueton Parks, are perfectly located in the town centre. With Green Flag Park status, the space offers visitors and locals an easily accessible space to relax and play.
Malvern and Brueton Parks - the essentials
With a modern playground, which also has the all time favourite swings and roundabouts, this delightful open space has so much going on. Taking a lot more than one visit to enjoy all it offers, you can look forward to:
a dedicated picnic spot
Brueton Tree Trail
free car parking
local nature reserve
mature woodland
ornamental gardens
ornamental lake
park events
Parkridge Cafe
pond
sensory garden
tennis courts
walking trails
You can apply to hold your event at Malvern and Brueton Parks.
Malvern and Brueton Parks - accessibility
Being located right in the heart of the town, getting to and from Malvern and Brueton Parks is easy. To make your visit even more enjoyable:
complete accessibility guides are available for Malvern park and Brueton Park
bus routes 5, 5A and 899 serve the park
Solihull and Widney Manor train stations are within walking distance
free parking for the Malvern Park end is available at New Road
free parking for the Brueton Park end is on Warwick Road
there is a complete map of Malvern and Brueton Parks
In addition, there is a two mile walking trail in Malvern and Brueton Parks organised by Solihull Active.
Malvern and Brueton Parks - addresses and opening times
Brueton Park End
Warwick Road
B91 3HA
Malvern Park End
New Road
B91 3DL
Monday to Sunday 24 hours
Car Parks open from 8.00am
Summer Car Parks (April - September) closing between 8.00pm and 9.00pm
Winter Car Parks (October - March) closing between 4.00pm and 5.00pm
Malvern and Brueton Parks - playgrounds
Refurbished as part of the Playbuilder project, the Malvern end of the park has a great play space. Packed with the latest equipment, it is a great place for kids to just be kids and tumble around on the:
ability whirl carousel
birds nest tree net climber
dish roundabouts
junior slide
nest swing
super rope-end swing
toddler swings
toddler zone
trampoline
tunnel and bridge
sandpit
stone boulders
Book a tennis court
We have recently partnered with the Lawn Tennis Association to resurface the tennis courts at Malvern Park.
Our courts are free to hire, you just need to book your slot.
The Parkridge Visitor Centre
Opened in 2002, the visitor centre in Brueton Park is managed by the Warwickshire Wildlife Trust, which offers:
free entry
entry for both schools and the public
nature reserve
conservation interpretation
education facility
workshops
demonstrations
tea shop
toilets
adventure play area
Parkridge Visitor Centre - contact details and opening times
open from 10.00am through the year
summer closing (April to October) 4.30pm
winter closing (November to March) 4.00pm
public toilets available during opening hours
Malvern and Brueton Parks - a little more information
There really is something for everyone at Malvern and Brueton Parks. From the wide open recreation spaces and natural wildlife of Brueton, to the formal gardens and play area of Malvern, you will always find something to enjoy here.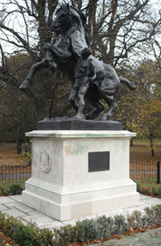 The Brueton Tree Trail is always popular too, which is home to a number of unique trees such as English Oak, Giant Redwood, Maidenhair and Indian Bean Tree.
For heritage lovers the park is ideal too, with a notable highlight being the "Prancing Horse and Man" statue. Dominating Malvern Park Avenue it was donated in 1944 by Oliver Bird of Bird's Custard fame and created by the eminent Victorian sculptor, Sir Joseph Edgar Boehm.
The park also hosts some great Park Events through the year, including Shakespeare in the Park and Carols in the Park.