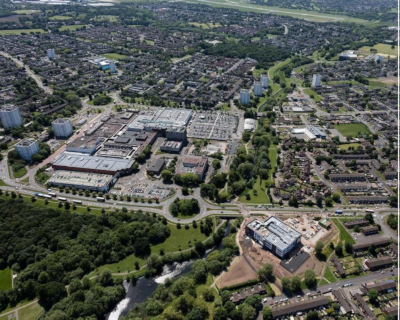 Solihull Council is developing a long-term plan to ensure that Chelmsley Wood Town Centre continues to thrive and serve the needs of the local community as we witness the role of town centres changing locally and nationally.
Supported by planning and design consultant BDP, work started on developing a new vision for the future of Chelmsley Wood Town Centre in 2018. Early studies highlighted the revitalisation of the Northwest Quarter of the town centre as a key opportunity to initiate the transformation of the town centre as a whole.
Since then, we have been working to develop a vision for the Northwest Quarter, which includes the Police Building*, Job Centre, vacant former library site, BT Telephone Exchange, and former Royal Mail sorting facility.
In March 2022, the public were consulted on a range of potential options for new uses in the town centre in order to develop a deliverable masterplan for this area of the town centre, which was finally adopted in January 2023.
We are currently seeking feedback on this new masterplan (Northwest Quarter).
You can find out more on the Council's engagement platform 'Your Voice Solihull'.
The next step will be to submit a planning application for phase 1 of the masterplan, which focuses on the vacant former library site. The purpose of this engagement exercise is to keep you updated on our progress and to capture any thoughts or comments you may have on the proposals at this stage.
* Delivery of Phase 3, which incorporates the existing police station, would be dependent on West Midlands Police agreeing alternative accommodation for a police station within Chelmsley Wood Town Centre.