We carry out a wide range of work with children and young people of all ages and we provide a comprehensive selection of road safety training and resources which can be borrowed by schools.
Mode Shift Stars
The national schools awards scheme that has been established to recognise schools that have demonstrated excellence in supporting cycling, walking and other forms of sustainable travel.
The scheme encourages schools across the country to join in a major effort to increase levels of sustainable and active travel in order to improve the health and well-being of children and young people. Every school and college in Solihull can participate in Modeshift STARS for free. If you would like more information then please contact us.
Nursery kits
Available for hire, free of charge. The kit contains traffic-related play equipment for a whole class and comes with a range of educational worksheets. They are suitable for children in nursery or reception. For more information contact us.
Starting Small - getting to school the easy way
The Starting Small guide shows parents and carers of young children there are many active ways to travel to and from school, thus avoiding the need to drive what is often a comparatively small distance.
WalkSmart!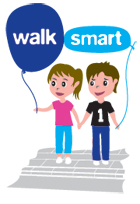 A child pedestrian training scheme for children aged 6 and 7 that runs throughout the year in schools around the borough.
Children are taken out of the school environment and practice safe ways to cross roads and how to cope with traffic in the neighbourhood around their school. For more information on the training then please contact us.
Junior Travel Ambassadors
The Junior Travel Ambassador (JTA) scheme is a new initiative operating in primary schools all over the borough. The main objective of the JTA role is to spread road safety and sustainable travel messages throughout the school, during the academic year, by taking part in assemblies, maintaining and updating a sustainable travel notice board and running school competitions.
Walking bus
A Walking Bus is a great idea to encourage children to adopt a healthier way to travel to school and helps tackle the problems associated with school gate parking.
The Sustainable Travel Team can help you set up a bus at your school by giving you support with route planning, risk assessments and the training of adult supervisors. If you are a parent, teacher or governor at a school and would like more information on how to set up a Walking Bus then please contact us.
Park & Stride
Park & Stride is a great initiative for schools who are experiencing a problem with parental parking outside schools. Rather than parking close to the school gates, parents are encouraged to park further away from school and walk the rest of the journey.
If this is something you feel could be of benefit to your school then please contact the Sustainable Travel Team who will be able to assist you with identifying suitable alternative parking locations, carry out a risk assessment and be able to help with publicising the scheme to parents. For further information please contact us.
School Gate Parking Packs
School gate parking around most schools causes many problems. To target this we've put together a folder of practical initiatives for schools to use to encourage parents and pupils to park further away from the school and either walk, scoot or cycle instead.
Transition - On the Move
The change between primary and secondary school has been identified as a key time when a young person's views on their future mode of transport can be most influenced.
On the Move has been designed to influence Year 6 pupils, who will be shortly moving up to secondary school, to consider travelling to their new school sustainably. The project consists of three elements; a fun booklet for all Year 6 pupils, an information leaflet for parents and a series of classroom based lessons. For more information please contact us.
Smarter Travel - Secondary
A package of initiatives designed to raise student's awareness of the causes and dangers of poor Air Quality. The initiatives will encourage the students to look at their own travelling habits and behaviour and to challenge them to think how they can contribute to bringing about positive change. The initiatives on offer include;
An assembly suitable for Years 7, 8 and 9
A lesson for Year 7 or 8
A workshop/discussion session for Sixth Formers
If you would like more information please contact us.
Scootability
A fun and exciting initiative for pupils in Year 1 and aims to improve their knowledge on basic scooting manoeuvres as well as teaching them to have consideration for pedestrians. Scooting is becoming more appealing to young children as a way of travelling to school and is fabulously sustainable.
Good Egg Safety Guides - In Car Guide and New Drivers Guide
Access the 20 minute Good Eggs Safety Guides for:
your complete guide to car child seats
a complete guide to getting your driving licence and keeping it
Clean Air in Schools
Many schools across the borough experience high levels of air pollution at the beginning and end of the school day which can have a serious impact on young people's health. Working with the whole school community is one of the priorities within the Clean Air Strategy to reduce air pollution across the borough.
Whilst all our sustainable travel initiatives that encourage walking, cycling, scooting and the use of public transport contribute to the Clean Air Strategy, there is particular emphasis on the following;
Solihull School Streets – we will continue to look at introducing the scheme to schools that we feel would benefit from a predominantly car free zone outside the school in the morning and at home time
ModeShift STARS – we will encourage schools to sign up to this national accreditation scheme that enables schools to produce their own Green School Travel Plans whilst gaining national recognition
Air Quality Lessons – available for both Primary and Secondary school aged children
On The Move Transition Lessons – preparing Year 6 children to travel to their new secondary schools sustainably and safely
Engines Off, Young Lungs at work – an anti-idling engine campaign to encourage parents to switch off their car engines while waiting outside school
Diffusion Tube Monitoring – support for schools to carry out diffusion tube monitoring in their own playgrounds
Greener Solihull Schools Award – providing support and encouragement for schools to include Air Quality as part of their school's award bid
Solihull Independent Travel Training
Independent travel training is a service that teaches children and young adults with special educational needs (SEN) to travel safely with independence and confidence. We work with students up to year 11 and our NEETS programme works with young adults between 15-29. These are personalised one to one sessions based around an individual's needs.
The team also includes our School Transport Guide Trainer, who trains guides so they are equipped in their role as a guide on our home to school transport vehicles. We also have a Travel Options Assessment Officer, who assists families in receiving a form of travel assistance that is most appropriate for them.