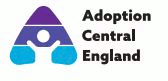 Adoption Central England (ACE), created by Solihull, Coventry, Herefordshire, Warwickshire and Worcestershire councils, is dedicated to providing support for new and existing adopters, birth families, and step parents and young people or adults who have been adopted.
Want to adopt?
ACE is a well-established regional adoption agency with experienced, friendly and supportive staff who will guide you through your adoption journey whatever that might look like.
ACE works with all individuals and families using the principles of Dyadic Developmental Psychotherapy, to ensure that we listen to the experiences of adopters, children, birth parents and adopted adults to work in ways that promote open and engaged empathetic relationships. We will support adopters to appreciate the impact of their child's early trauma and to parent in ways that will to enable their child to build trust, feel safe and reach their full potential.