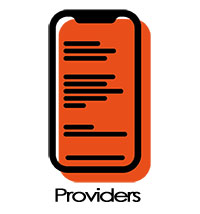 Providers
This page provides guidance and resources for existing, or potential new providers and partners of our Holiday Activities and Food (HAF) Programme.
You will need to request an application form to be approved as a Solihull HAF provider. You can express your interest and request an application form by calling 07554 306 645 or emailing HAFSolihull@solihull.gov.uk.
We are keen to hear from organisations, education settings or community groups that can join us in our mission to deliver, free to access, activities to children in receipt of benefit related free school meals.
We are looking for fun and creative ideas to help build a programme of enriching opportunities and experiences across the borough which will be memorable and have a long-lasting impact for the children and families who attend. 
Please read our Provider Handbook to find out more about the scheme.
All children who are attending a HAF session must have a code in order for the place to be funded by the Council.
Children who attend a Solihull school and are eligible for a place will have received an email and a code that can be used to check eligibility. You must record the code as this will be needed on your monitoring registers.Children who are eligible but attend school outside of Solihull can also access a place using the code provided from their local council (Coventry and Warwickshire) or school (Birmingham).
Children who are non-FSM can still access places but only through a professional referral, which can be made on the professionals page and they will also be issued with a code which can be used.
Places will not be funded without codes.
Golden Nuggets are a 'menu' of free, additional activities that providers are encouraged to include in their provision to give access to more activities and learning experiences for children on the programme. We would encourage providers to access at least one of the opportunities available.
Becoming a 'Golden Nugget' provider
As well as HAF providers, we are also looking to develop 'Golden Nuggets' to increase the physical, creative and enriching offer to children and young people who attend the sessions. This may be a one-off activity or run over several holiday venues during the year.
We are interested in organisations that can provide activities which allow children to learn new skills or gain certificates or awards, such as first aid, riding a bike, drumming, sports, dance or arts. It is also a priority to increase nutritional education and encourage healthier food choices such as cooking classes or food tasting. If approved, we will connect you with a HAF provider to deliver your sessions.
We are particularly interested in local grassroots organisations or community champions who are keen to offer this as part of their own outcomes or as a taster session to connect with local families. Please complete this form and return to find out more or express an interest at HAFSolihull@solihull.gov.uk.
Your aim should be to support children, young people and families to:
eat more healthily
be more active
take part in engaging and enriching activities
be safe and not isolated
have greater knowledge of health and nutrition
be more engaged with school and other services
Funding can only be used for eligible free school meals (FSM) children, and activities and meals should be free for those who are eligible.
As the activities are voluntary, we do not expect all eligible children will participate. We encourage providers to make your holiday clubs available to any children not eligible for FSM, who can afford to pay.
The following resources are designed to support you to pan and facilitate your sessions to meet the HAF standards.
Food Standards
Taken from the National School Food Standards for England, The Holiday Activity and Food standards are to ensure the food provided to participants attending holiday activities is nutritious and of high quality.
We aim to promote good nutritional health in all participants, protect those who are nutritionally vulnerable and to promote good eating behaviours to all.
Enriching activities
Our Nutrition and Play booklet will provide fun activities and ideas about physical activity and nutrition for all of the family.
Sport England has teamed up with the Youth Sport Trust to develop a new online resource that will help more children be physically active. The new, free Active Recovery Hub hosts hundreds of practical ideas to get children moving throughout the day. You can search for activities by age and the time of day they want to get active.
The activities are provided by sports organisations and there are a diverse range of inclusive activities to choose from. The new hub provides the ideal platform to get all young people more active and will provide valuable support for providers planning their summer HAF programme.
As a person who works (paid or unpaid) with children and young people, you have a duty to refer any concerns you may have regarding the welfare of a child or young person in accordance with Solihull LSCP Multi-agency Procedures.
You must refer your concerns to Solihull Children's Social Work Services using the inter-agency referral form and if you are concerned about the immediate safety of a child or young person you should contact the Police on 999
The safeguarding contacts will provide useful information and signposting to support with reporting a concern.
We would like to share with you the following resources for safeguarding:
The UK General Data Protection Regulations will define you as a 'controller' for the personal information you collect and process. You are responsible for its use and must safeguard it.
The following guidance can help you understand your data protection responsibilities:
Solihull Council have asked you to collect the following personal data as part of the HAF monitoring form:
child's name
date of birth
school
and home address including postcode
Special educational needs or disabilities
When collecting personal information, you must explain how you will use the information, whom you may pass it to and why. This is often achieved by including a statement on forms and is referred to as a Privacy Notice.
We have provided the following Privacy Notice to support the collection of this information.
Data Monitoring
We will expect providers to complete a register and final report after each holiday period. The forms will be sent to you by email and must be completed and return before the deadline in the format provided.
The completed register and final monitoring form should be returned as secure attachment.
New training courses will be announced soon.