The Mayor and Mayoress of Solihull for 2021 - 2022
The Mayor of Solihull
Councillor Ken Meeson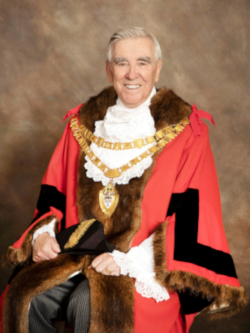 Ken was born in Shoreditch, London at the outbreak of World War II and spent his childhood in North London apart from being a wartime evacuee in Essex. During his school years he became interested in athletics and ran at county and club level.
After his education he moved to West Yorkshire serving in the Police Force, then moved into insurance claims investigation becoming a Regional Inspector and then Development Manager for Lloyds of London Underwriting.
His final working years were as Clerk to the Corporations of Dudley College of Further and Higher Education and Matthew Boulton College, where he was also Company Secretary and worked on the newly merged Birmingham Metropolitan College. His qualifications include the Associate of the Chartered Insurance Institute (ACII) and Member of the Association of College Registrars and Administrators (ACRA).
Ken lives in Dorridge and has represented that area as a Councillor for 36 years, having been first elected in 1984. Over this time he has chaired the former Social Services and Education Committees, been Leader of Council for 10 years, Cabinet Member for Children, Education and Skills for most of the last 19 years (when not Leader) and has also worked for Adult and Children's Services and Chair of Solihull Health and Wellbeing Board.
Nationally he has served on the Local Government Association Children and Young People Board, the People and Places Board, the Workforce Board, (chaired) the Management Board of West Midlands Employers, the Regional Employers Board for Local Government and other Public Sector organisations. He has a long-standing concern for children with Special Educational Needs and Disabilities and was Chair of Governors for Hazel Oak Special School for 21 years, chaired national conferences and given evidence to a Parliamentary Select Committee on Special Needs.
For many years he was Trustee/Director of The National Children's Bureau and is still a Trustee/Director of The National Youth Agency. More locally he has been an NHS Non-Executive Director, a member of the Governor Board of Birmingham & Solihull Mental Health Foundation Trust, the Mental Health Champion for Solihull, a Lay Hospital Manager under the Mental Health Act and is currently a Trustee of the Sir Josiah Mason Trust.
Ken has had a lifelong association with Scouting where he has served as Leader for both Senior Scouts and Venture Scouts, as County Commissioner, County Chairman of Solihull County Scouts and currently serves on the County Executive of Solihull Scout Council as Safeguarding Adviser. He has received the Chief Scout Award for services to Scouting.
Ken has been married to Annette for nearly 40 years. He has three children and two step-children with a total of six grandchildren and recently two great-grandchildren. Ken is very happy to advise that Annette will be his Mayoress for his term in office and they both look forward to meeting and supporting you over the coming year.
Mayoress of Solihull
To be updated.
Mayor's Sea Scout
2019/2021
Thomas Davies
Thomas Davies is the current Mayor's Sea Scout, he is 15 years old and currently in his final year of secondary school at Arden Academy. In the summer he will be completing his GCSE exams, a committed student with hopes to carry his education on into sixth  form.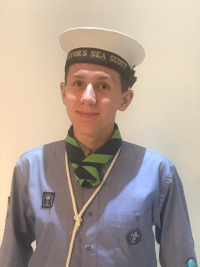 He has been a member of the Scouting organisation from age 7 when he started as a beaver and has been a member of 4th Knowle Sea Scouts for over 6 years. Thomas has found a great benefit in being in a naval approved sea Scouting unit, through this he has improved his kayaking and canoeing abilities yearly, through Scout provided training and trips.
Thomas recently completed his Duke of Edinburgh Silver award, after a 3 day canoeing trip, 6 months of improving his British parliamentary debating skills, 3 months of learning table tennis and continuous volunteering at a local Cubs group.
A keen interest in drama has seen Thomas recently be appointed head of backstage, he takes great pride in helping with Arden's annual production.