The Mayor and Mayoress of Solihull for 2019 - 2020 are Councillor Stuart Davis and Mrs Sarah Walker. 
The Mayor of Solihull
Councillor Stuart Davis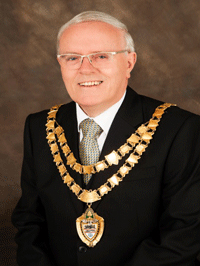 Stuart was born in Croydon, Surrey. He has lived in Knowle for all but fifteen years of his life. He was educated in Knowle & Solihull.
During his career he worked for the Marley Tile Company, during the construction of the Chelmsley Wood development, and later moved to ICI and then to Courtaulds. He started his own business as a main stockist for polythene products and other products for the horticultural trade. He then moved his business and family to south Devon and then to live and work in the Canary Islands where Stuart had business interests.
Stuart's interest in politics started in his late teens, and he first entered Solihull Council as the Conservative Councillor for the Shirley West ward in 1979. On moving to Devon he was elected to Devon County Council. On returning to the UK he stood for firstly Shirley West ward and then the St Alphege ward, which he has represented since 1999.
During his time on the Council he has been Chairman of the Planning Committee, Chairman of The Overview Scrutiny and Management Board, Chairman of the Councils first Licensing Committee. He was a member of CENTRO and was also a member of the West Midlands Fire Authority, where he was Conservative group leader. For the past year he has been Solihull Council's representative on the Overview and Scrutiny Management Board of the West Midlands Combined Authority.
Stuart has previously held the office of the Mayor of Solihull for the year 2017-2018 and Deputy Mayor for 2018-2019.
Stuart has two sons, a daughter, a step-daughter and has eight grandchildren.
During his spare time Stuart likes to "potter" in his garden and go travelling. He has been a member of Lions Clubs International for over thirty years and is currently a member of Knowle & Dorridge Lions Club.
Mayoress of Solihull
Mrs Sarah Walker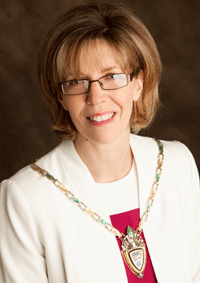 Sarah was born in Solihull's Netherwood Maternity Unit. She was educated in Dorridge, Warwick and Stratford-upon-Avon.
She first worked for a credit rating company and then for Cheltenham & Gloucester Building Society. When she left on maternity leave she was Assistant Manager. Later on Sarah also worked in the cash office at Tesco. At the present time she works as a Teaching Assistant at the Willows School, Stratford-upon-Avon.
Sarah previously supported her father by being the Mayoress of Solihull for 2017-2018 and Deputy Mayoress for 2018-2019.
The Mayoress and her husband Jeremy have three daughters and they live in Stratford-upon-Avon.
Mayor's Sea Scout - 2019/2020
Thomas Davies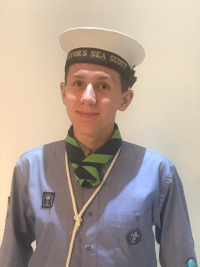 Thomas Davies is the current Mayor's Sea Scout, he is 15 years old and currently in his final year of secondary school at Arden Academy. In the summer he will be completing his GCSE exams, a committed student with hopes to carry his education on into sixth  form.
He has been a member of the Scouting organisation from age 7 when he started as a beaver and has been a member of 4th Knowle Sea Scouts for over 6 years. Thomas has found a great benefit in being in a naval approved sea Scouting unit, through this he has improved his kayaking and canoeing abilities yearly, through Scout provided training and trips.
Thomas recently completed his Duke of Edinburgh Silver award, after a 3 day canoeing trip, 6 months of improving his British parliamentary debating skills, 3 months of learning table tennis and continuous volunteering at a local Cubs group.
A keen interest in drama has seen Thomas recently be appointed head of backstage, he takes great pride in helping with Arden's annual production.