The Mayor of Solihull for 2023 to 2024.
The Mayor of Solihull
Councillor Diana Holl-Allen MBE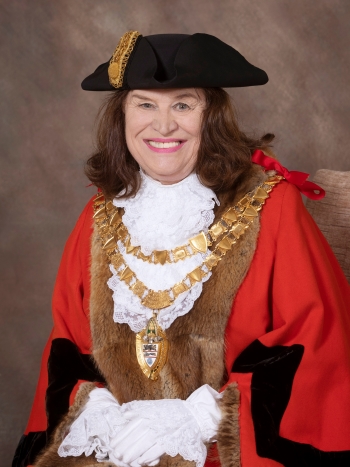 Children
Robin (born 1975) and Amanda (born 1976)
Education
Goudhurst College, Nantwich, Cheshire 1957 to 1964
Work
Member of the Conservative Party since 1959
Councillor for Solihull Council since 1984
Chairman of RAFA Solihull 2023
Mayor Solihull Council 1986 to 1987
Deputy Mayor Solihull Council 1987 to 1988
Coventry and Solihull Valuation Tribunal since 1988
Solihull Bereavement Counselling Service 1993 to 1996
Coventry and Solihull Waste Disposal Advisor Forum 1984 to 1996
West Midlands Sports Council 1993 to 1996
West Midlands Fire and Defence Authority 1994 to 1996
Regional Flood Defence Committee
West Midlands Council for Sport & Recreation
West Midlands Probation Service 1999
West Midlands Police Authority 1999 Vice Chairperson Police Authority 2001 to 2009
Chairperson West Midlands Police Authority 2004 to 2009
Deputy Chairperson Joint Counter Terrorism Unit Oversight Group 2007 to 2009
Awarded an MBE for services to West Midlands Police Force in the Queen's Honours 31 December 2011.
Voluntary work
Previous
WRVS Meals on Wheels Hospital Canteen
Marston Green Voluntary Voluntary work as SRN for Warren Pearl Home for the terminally ill (now Marie Curie)
Youth Club organiser (as a youngster)
Chairman
St Christopher's Home - Solihull fund raising committee League of Friends
Birmingham Children's Hospital Solihull Group
Founder
Friends of Acorn Hospice, Birmingham, chairing first fund raising committee
Present
Work with Birmingham Parents Anonymous
Member of Church visiting service Birmingham, Olton Grange Home for the Elderly
Birmingham Settlement Committee
West Midlands Women of the Year Committee
Solihull Hospital Foundation Committee
Solihull New Hospital Fund Raising Committee
Hobbies
Music
Reading
Swimming
Flower arranging
Rotary
During her career Councillor Diana Holl-Allen has also qualified as:
State registered nurse practising at Stoke Mandeville Hospital, Aylesbury
Public speaking at Abbey School of Public Speaking, Birmingham
Air hostess for Britannia Airways, Luton
Staff Nurse Family Planning for Birmingham Area Health Authority
Mayors Consort, Mr John H Courtenay MIM C. Eng, (BSc Hons)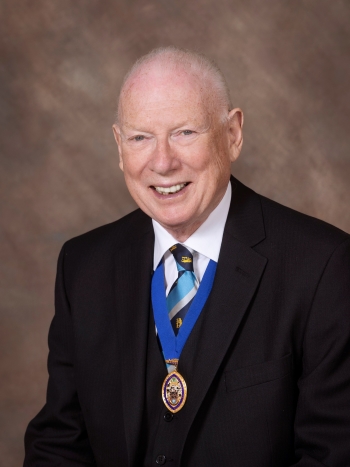 Children
Lisa (born 1976) and Richard (born 1978)
Education
Studied metallurgy at the University of Aston in Birmingham, England and graduated in 1968 with MIM C Eng (Member of the Institute of Materials, Chartered Engineer) (BSc Honours degree).
Appointments
Chairman, Knowle Branch, Meriden Conservative Association
Deputy Chairman, Fundraising, Meriden Conservative Association  
Affiliations
Member of The Heart of England Lodge No 6549
Member of The Avenue Bowling Club
Career history
Titles
Chairman, MQP Limited, Solihull, England, CEO MQP International Limited,
Director, Aluminium Casthouse Technologies Limited
Foseco International Ltd: 1967 - 1999
John held a range of technical, marketing, commercial and managerial positions including General Manager steel division Foseco Japan 1980-1983, and Marketing and Technology Director, Foseco Aluminium Limited 1992-1999
In 1999 John left and set up MQP Limited in June 2000, specialising in melt treatment and process control products, equipment, and technology for aluminium casthouses worldwide. In 2016 John sold 70% of the shares in the company to the Lizhong Sitong Light Alloy Group Ltd who are a major manufacturer of automotive alloy wheels for the global car industry.
John is a recognised specialist in aluminium technology and is the author of numerous published technical papers presented at international conferences including TMS 2023 (The Minerals, Metals & Materials Society), NORCAST 2023 (the Nordic Aluminium Casthouse Conference) and the 10th  International Aluminium Symposium (Istanbul Fair Centre, March 3 to 4, 2022).
Hobbies
Playing electric guitar
Classic cars
Going to concerts
Reading
Clay pigeon shooting
Mayor's Sea Scout
2022/2023
Jessica Whitehill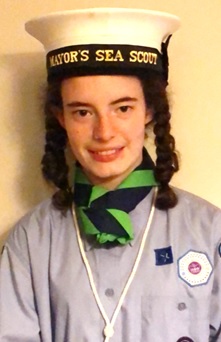 Jess has been an active member of 4th Knowle Sea Scouts since 2015, starting as a Scout at the age of 10. She has taken part in many activities over the years, her favourites including Paddle Sports Instructor training and a First Response Emergency Care course, which allowed her to volunteer at the Birmingham 2022 Commonwealth Games.
Jess has also completed her Young Leaders and Bronze Duke of Edinburgh Awards. For this, she began volunteering at the Beaver group, which she still enjoys.
Having completed her GSCE's in 2021, Jess is now studying for her A-Levels at Solihull Sixth Form College. 
Outside of her studies, Jess has a part-time job in Knowle and spends most of her remaining free time at her local theatre in Kenilworth, where she has appeared in multiple pantomimes and shows since the age of 10.
Mayor's Sea Cadet
2022/2023
Rebecca Kane
Rebecca joined Shirley Sea Cadets (T.S. Gamecock) in August 2021 and has recently been promoted to Cadet 1st class rank. Since starting she has taken part in many activities, including air rifle shooting and sailing. As well as completing her Bronze Duke of Edinburgh, Rebecca recently completed stage 4 sailing with the Royal Yachting Association and spent a week sailing around the islands near Oban, Scotland, earlier this summer, as part of her Sea Cadet experience.
Rebecca is also an avid rower, recently passing Coxswain training, and a competent figure skater, having started skating at Solihull Ice Rink, aged 4. She competed nationally from ages 7-12 as a solo skater, in Solihull synchronised skating teams and in a show team.
She is currently studying for her GCSEs and plans to enlist with the Royal Navy after completing her A-levels. Rebecca will serve as the Mayor of Solihull's inaugural Sea Cadet.