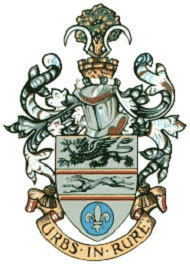 The present Armorial bearings of the Metropolitan Borough of Solihull were granted in 1975.
The description is:
Arms
Argent within two Barrulets Gules between in chief a Griffin passant Sable and in base a Hurt thereon a Fleur-de-Lys Argent a Greyhound courant Sable.
(translation: on a silver shield within two red Barrulets between, at the top, a black Griffin with one paw raised and, at the bottom, a silver fleur-de-lys on a blue roundel, a black greyhound running at full speed).
The two red bars are the symbol of the Throckmorton family of Coughton Court, near Alcester.  Sir George Throckmorton purchased the Manor of Solihull in 1528 and it was held by his family until 1604.
The black greyhound is taken from the arms of the Greswold family who were associated with Solihull for several centuries and built Malvern Hall and also the Manor House in the High Street.
The silver fleur-de-lys is taken from the arms of the Digby family, which has held the manor of Coleshill (including Chelmsley Wood, Kingshurst and Fordbridge) since 1496.
The black griffin is taken from the arms of the Finch family, Earls of Aylesford, who have held the lordships of the manors of Bickenhill and Meriden.
Crest
On a wreath Argent and Sable Issuant from the battlements of a Tower in front of a Oak Tree proper fructed Or two sickles in the shafts in saltire the blades upward and outward proper.
(translation: on a black and silver wreath, arising from the battlements of a tower in front of an oak tree bearing golden fruit, two sickles, the shafts crossed and blades upward and outward).
Motto
Urbs in Rure (the town in the country).
The present armorial bearings were based on those used by Solihull Urban District Council 1948-1974.