Paying if you've moved home
Our Change of address page tells you how we can update your bill if you have moved:
to Solihull
within Solihull
Direct Debit
Direct Debit is the simplest and safest way to pay.
Most people now choose to pay by Direct Debit and are protected by the Direct Debit Guarantee. You can choose to pay by Direct Debit on the 1st or the 15th of the month.
You can set up a Direct Debit using your council tax account.
You can also:
Online
If you need any help making a payment, please read our frequently asked questions.
Telephone payment
Pay using your debit or credit card by calling 0300 456 0502.
This service is available 24 hours a day, 7 days a week. Calls are charged at a local rate.
Post Office
You can pay by cash, cheque or debit card at any Post Office. You can ask for a receipt. You will need to take your bill with you. Please allow 5 working days for your payment to reach your account.
PayPoint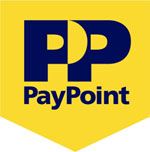 You can find PayPoint outlets at local shops, supermarkets, newsagents and petrol stations.
Take your bill to any shop or petrol station displaying the PayPoint symbol. You must pay in cash. Please allow at least 5 days for your payment to reach your account.
BACS payments
If you would like to make a payment directly from your bank account, please use the following bank details for the Council:
Bank account name: Solihull Metropolitan Borough Council 
Sort Code: 20-07-71
Bank account Number: 50521825
and quote your eight-digit Council Tax account number
Instalments
Bills sent before 30 April are payable in 10 monthly instalments. If requested before 15 April, your bill can be paid over 12 months.
To discuss changing the date or number of instalments, please call 0121 704 8100.
Bills sent out after 31 December must be paid in full.
Where bills are sent out between these two dates, the number of instalments will be reduced accordingly.