Library services available during COVID-19

Our COVID-19 page can help you understand the changes when visiting a library and see what other services are available.
Your local library has books and information for children and young people of all ages, as well as eBooks and eAudiobooks.
Summer Reading Challenge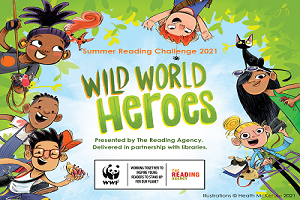 Calling all Wild World Heroes!
The Summer Reading Challenge is back and children ages 4-11 years old are being challenged to read six books over the summer and join in the fun. This year's theme is Wild World Heroes and is in partnership with WWF. You can find out all about environmental issues and what you can do to make a positive contribution to our planet.
All you have to do is register for free at any Solihull Library to get your collector pack and then collect stickers when you visit the library over the summer. You can choose any book you like for the challenge, the choice is up to you. You could even borrow books from our ebook and eaudiobook service.
If you complete the challenge you will earn yourself a certificate and a medal and you can enter our prize draw for tickets to the Core Theatre this autumn and Christmas. But hurry! Stocks are limited this year and when they are gone, they are gone!
You can also join the Summer Reading Challenge online where there are lots of videos, games and competitions too! Plus the Book Sorter that will recommend some really great reads.
Summer Solidays
There's lots going on in Solihull's libraries, The Core Theatre and Solihull Parks this summer holiday.
Free Events - As well as Wild World Heroes, Summer Reading Challenge 2021 there are free library storytimes from some great professional storytellers. Come along and enjoy Sally Song, Pyn Stockman, Sohan Kailey, Kate's Storytree and Booster Cushion Theatre.
All sessions have limited numbers in order to present a safe event for everyone so booking is essential for all members of your party, including adults, over 2 years old.
Book tickets for our Free Events
Artist Workshops - Join Art @ the Heart for extended artists workshops and expert tuition to create amazing results. Sessions for 5+ and 11+ with lunch included in the price (free event for those receiving Free School Meals).
Book tickets for our Artist Workshops
Magical Movie Moments - The Core Theatre is screening some fantastic family films over the summer.
Book tickets for Magical Movie Moments
Friday Fundays - Lots of fun in the parks every day but Friday is Funday!
Download our Soliday Summer brochure
Get coding with a Micro:bit
You can now borrow Micro:bits from Solihull libraries. A Micro:bit is a palm-sized computer that you can use for all sorts of cool creations, from robots to musical instruments - the possibilities are endless.
eBooks
You can download eBooks and eAudiobooks for children and young people for free from our eBooks page.
You can have up to ten ebook titles at a time and six eaudiobooks, and borrow them for up to three weeks; and with authors including David Walliams, Jacquie Wilson, David Baddiel, Suzanne Collins, John Green and many more, there's something for everyone.
Bookstart
Bookstart is all about enjoying and sharing books with your child from the earliest age. Bookstart gives a gift of free books to children in their first 9 months and again at age 4 years.
Health and Well-being
Is a child or young person you know coping with a difficult issue? Do they need help with issues like bullying, death, stress, depression or illness in the family?
Read Me Well
The Read Me Well collection could help for children of 12 or younger. There are collections at:
Reading Well Shelf Help
The Shelf Help collection is aimed at young people aged 13-18. Topics covered include:
ADHD
Anxiety
Autism
Body Image
Bullying
Depression
OCD
Self-Harm
Stress
Shelf Help has been chosen by young people and health experts to offer tips and ideas to help young people understand and manage their emotions.
As well as self-help techniques there are personal stories, graphic novels and fiction titles. There are Shelf Help collections in:
Chelmsley Wood Reading Den
The Reading Den collection has been put together.to help with the needs of fostered and adopted children and young people, and their families.
Study Support at The Core Library
There is a homework club during term time at The Core Library - Tuesdays 3.45pm to 5.30pm.
The club is open to children of 8 years or over. We offer resources and a specified member of staff to help children with their independent learning.
Staff at any library will be able to help you find the books you need to work on your homework topics. Just ask! 
GCSE and A Level Revision guides
We have a selection of the most popular GCSE and A Level subjects, also available in our community libraries.
Plays on DVD Collection
You can borrow DVDs of BBC productions of Shakespeare's plays and frequently studied plays such as An Inspector Calls.
Groups and activities
All of our libraries offer storytime sessions for under-5s and most have rhymetimes for the youngest children too.
For older children (9-13) there are Code Clubs at:
Find your local library for information on activities, groups and events.