If you are new to Solihull, your library service has many free services available to you
Its free to join the library and you can join at any age.
We have 13 libraries in local communities
A large selection of fiction and information books are available for all ages and you can reserve books from other Solihull libraries for free
Children's activities such as rhymetimes and storytimes are available in most libraries, along with books for children and young people, from picture books to graphic novels
eBooks, eAudiobooks, eMagazines and eNewspapers are available for use at home on your own devices
Computer, scanner, and printer access is available, with 3 hours free for members (printing is available for a small charge)
Your library can help you with information on activities in the area, and also learning opportunities, including English as second or other language
Libraries are a great place to meet other people and study space is available if you need it – no membership or booking needed.
If English is not your first language, there are some sources in other languages
Libby – has eMagazines in over 20 languages
PressReader – has newspapers and magazines in over 60 languages from nearly 150 countries
Newsbank – has newspapers and newsfeeds from countries around the world
Library events and activities are shown on our Events page, all events are free but some require booking
If you are looking for other activities and groups use our Solihull Local Information Directory.
Learning opportunities are shown on our Learning with your Library page, including English as a second or other language.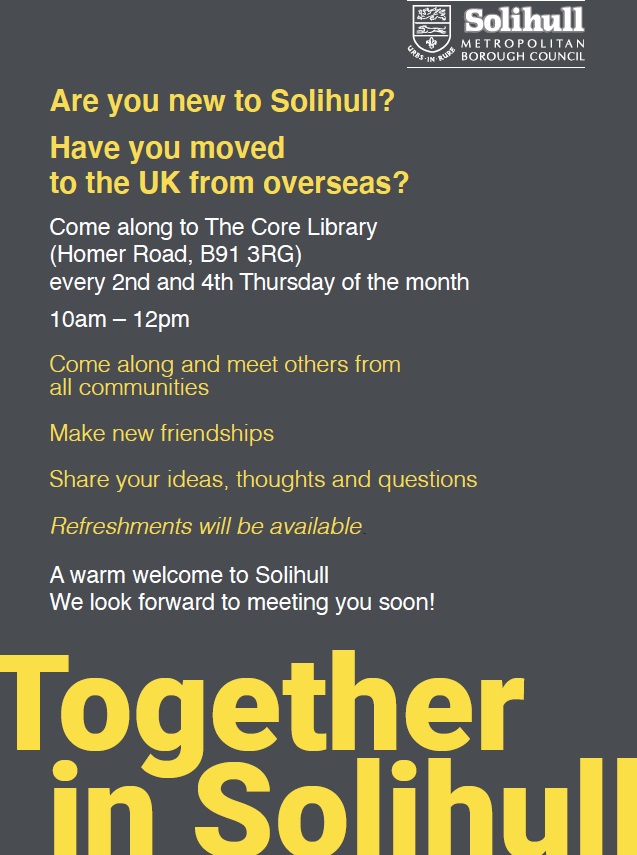 Ukrainian community
Libraries Connected have provided information on UK library services in Ukrainian
Solihull Libraries have a selection of children's books in Ukrainian
Bookstart, the national body that aims to encourage a love of books, stories and rhymes in children from as young an age as possible, have produced guides in Ukrainian on Reading with your child, 0-12 months and 3-4 years
Odilo is also offering free eBooks and eAudiobooks in Ukrainian through their Android and IOS apps – 1700 titles in total for adults and children
If you are a Ukrainian family, or are supporting a Ukrainian family, you can email the Literacy Trust to receive one of their Welcome Reading Packs. You will receive a bag with age-appropriate books, a ruler, pencil, pack of markers, stickers, a pencil case, a hardback notebook. You will also receive some printed resources, information about local literacy activities and a QR code to access digital activities.
STEP Ukraine is a free 12 week intensive English language and employment course, delivered remotely by World Jewish Relief and the British Council.
Newsbank has Ukrainian news feeds including the Kyiv Post, though in English.
Hong Kong community
PressReader has several Hong Kong titles including the South China Morning Post, the Oriental Daily News, and the Merit Times, as well as some magazines including Vogue and Marie-Claire