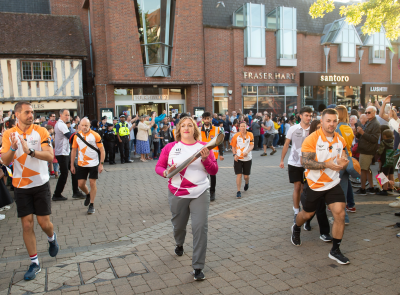 Once the Games themselves got underway, hundreds of people came out to enjoy them in the Town Centre at Solihull's two Festival Sites in Mell Square and Theatre Square. With big screens showing all the action, excellent food and drink from local vendors and the chance to get involved in many sporting activities and have-a-go sessions. All of this was helped along by the cheerful presence of our Games Ambassadors. These specially trained volunteers helped residents and visitors get the most out of their Games experience in Solihull.
At the NEC, there was a host of top quality sporting action taking place. Emily Campbell's unforgettable gold, a glut of boxing success including Delicious Orie's Heavyweight triumph and the excellent entertainment from all the sports on show at the venue will not be forgotten quickly by anyone in attendance. The event showed, once again, that Solihull knows how to deliver world-class events on a global scale. 
Sport wasn't the only thing on offer, with residents also benefitting from the ongoing Birmingham 2022 festival, which not only featured On Yer Bike, but a huge selection of cultural entertainment in the borough.
As the Games neared their end, the Leader and Deputy Leader of Solihull Council, Councillors Courts and Grinsell, reflected on what the games had brought to the borough.