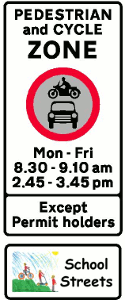 If you live on the streets affected you will need to display a valid permit in your vehicle to drive through the zones during the restriction times listed here.
A 20mph speed limit has been introduced alongside the restriction and is in operation at all times.
Gateway signage is in place at each entrance to the School Streets displaying the times the restriction is in force.
How will it be enforced?
The Police have powers to enforce the restrictions. Anyone caught driving through the restricted zones whilst the restriction is in force without a valid permit or exemption can be issued with a Fixed Penalty Notice.