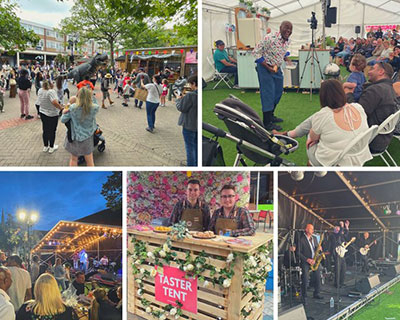 We work with our partners to help event organisers ensure events in Solihull follow health and safety guidelines.
This page sets out what you will need to consider if holding an event and how to apply.
Holding an event on council land
Any events on Solihull Council land (such as parks, highways, town centre, car parks) requires our permission and event organisers are required to provide supporting information.
Examples of events include:
a festival
charitable fundraising
a market
promotional activity
Timescales
If you require permission to use council land for your event you will need to provide a minimum of 12 weeks notice in order for applications to be processed and permissions to be issued in time for the event.
Large scale events in Solihull
If you are not planning to hold your event on council land you do not need to apply for permission, but we want to know about events which 500 or more people are expected to attend. This helps to provide an overview of what is taking place in Solihull at any time.
Refreshments in our parks
Solihull Council have contracted refreshment concession operators for most of our parks in the borough. These concession operators are notified of all events that are booked to take place and have the right to trade in the park during all events.
For more information on this, please email parksmanagement@solihull.gov.uk.
Filming at Council Locations
If you intend to film on Council land please note you do require permission before filming. Permission to film is required for the following locations:
Council parks
open spaces
town centres
within Council buildings
This includes filming with drones, regardless of their size.
All applications should be made online to Film Birmingham who process applications on behalf of Solihull Council. Please visit their website for more information regarding the application process.
Safety Advisory Group
Solihull Council coordinates the Safety Advisory Group, which meets regularly to consider large scale events or events that are likely to have a significant local impact. The Safety Advisory Group is made up of representatives from Solihull Council and the emergency services plus other parties as appropriate.
The following documentation is required before a Safety Advisory Group meeting can be held. Please note you can use your own format for these documents and the templates are provided to either use for your event, or as a guide to what is required.
The Event Notification process supports organisers
It provides a single point of contact to Solihull Council services and emergency agencies. 
By completing our event checklist, you can help;
us to make sure you receive the advice and assistance you need to get your event started
and also ensure that you apply for any licences or permissions in good time
and enables us to ensure relevant services can then be made aware of your event.
Other areas that need to be considered
You should be aware of the following guidance:
Mayor of Solihull
Signage
Waste
Public health
More information
It is likely that additional guidance will be required for specialist events and larger scale activities and there are many sources of information i.e. government and event industry guidance websites that may be able to offer advice on specific types of event.
Need help?
Most queries can be resolved online, it's the quickest and most convenient way to get help.
Contact us at events@solihull.gov.uk.