Please note that a request to cleanse a blocked gully is not the same as a request to mechanically sweep a road, which requires different machinery.  Request a road sweep.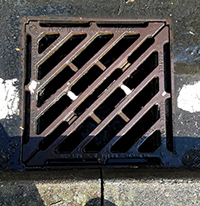 If you spot a blocked gully you can report this to our using our interactive map.
We aim to attend to reactive requests each Friday.
During times of heavy rain some gullies may overflow temporarily while the build up of water drains away. If, when the rain stops, the gully clears then it may not be blocked. Please consider this when reporting a problem and also make a note of if:
the gully is located at the bottom of a hill
the gully is covered in leaves/litter
there is a car parked over the gully
Emergencies
A blocked gully is considered an emergency when:
it poses a serious risk to public safety
it is causing flooding at a property
If the problem with the gully is an emergency please call 0121 704 8004.