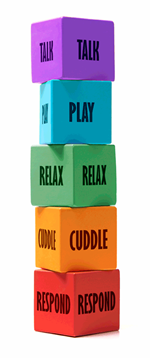 This 6-week group is open to parents and carers with children aged up to 4 years.
The Five to Thrive building blocks describe a group of activities that build healthy brains in babies and young children and maintain healthy brain function throughout life.
The simple key words - respond, cuddle, relax, play, talk - offer a bridge between professional understanding of how the brain develops and everyday experience.
If you would like the opportunity to meet other parents with babies, learn how to further develop your baby's brain, make new friends and leave with a smile, then please come and join us.
To find out what groups are scheduled, please contact the parenting team via bsmhft.parenting@nhs.net providing your name and address.
If you'd like to know more about baby and child development, please take a look at the website Five to Thrive in Solihull.